Saturday, April 24
9 a.m. – 2 p.m.
Pioneer High School Parking Lot
601 W Stadium Blvd at Main St (Map it.)
Recycle your e-waste: it's quick, easy, and earth-friendly!
computer systems
monitors
telephones/cell phones
televisions
speakers

printers
wires/cables
modems
Drive Through, Drop Off, and We'll Take Care of the Rest
All e-Waste will be destroyed and 100% recycled in the United States in an environmentally sound manner by a fully permitted recycling facility.

Security precautions are made throughout the recycling process to ensure all data is destroyed.
Everyone Is Invited
Tell your friends and neighbors in southeast Michigan.

Small businesses and non-profits with large quantities of equipment are invited to participate on April 22–23. Locations and times vary, registration is recommended.
NOTE: All U-M-owned equipment must be disposed of through Property Disposition; items that cannot be resold by Property Disposition are responsibly recycled in accordance with state and federal regulations through Occupational Safety & Environmental Health at U-M.
Save Our Land and Water Systems and Responsibly Recycle Your e-Waste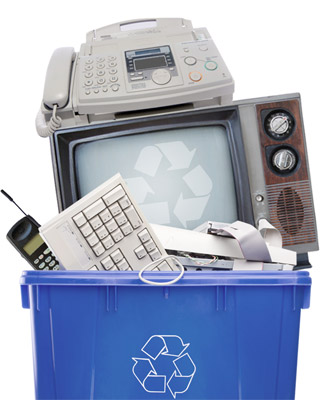 Protect the environment. Keep hazardous electronic equipment out of landfills.

Conserve natural resources. Materials in your electronics are highly reusable.
Events co-sponsored by the University of MichiganOffice of Campus Sustainability and local partners.
For tips on recycling your e-Waste at other times, see the article from Planet Green.
Recycling services provided by Apple.